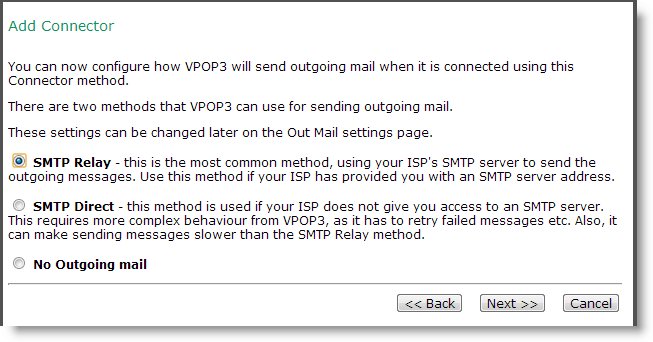 On this page of the Wizard, choose how you want outgoing mail to be sent when the associated Connection is triggered.
•SMTP Relay - this is the most common option. Using this option, all outgoing mail is sent to your Internet Provider's mail relay server (also known as a smarthost). You can enter more options on the next screen
•SMTP Direct - use this option if your Internet Provider does not give you access to a relay server/smarthost, or if there is some reason you do not want to use a smarthost. Note that this is more complex to configure reliably, and it may, in some cases, not be possible to use this option, depending on your type of Internet connection.
•No Outgoing mail - use this option if you will not want to send outgoing mail when the associated Connection is triggered. (Note that this can easily be changed later)
Press Next >> to go to the next page