Sometimes people want to be able to access their office VPOP3 mail server from a remote site or mobile phone etc.
The Allow Remote Access to VPOP3 topic explains how to configure VPOP3 to support this if you have a permanent Internet connection (cable, ADSL, leased line etc). If you do not have a permanent connection to the Internet, then you will need to configure a dial-in server on the VPOP3 computer or another computer on the same network as VPOP3.
Setting up a dial-in server
To support a dial-in server using these instructions, you need a modem on a Windows computer on the VPOP3 computer or another computer on the same network.
Windows 7, 8, 10
Press Win+R to bring up the Run dialog. Type ncpa.cpl and then OK.
In the window that appears, press Alt+F and then choose New Incoming Connection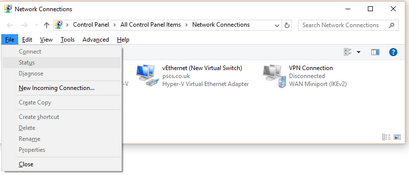 Select the Windows users who you want to be able to dial in to this computer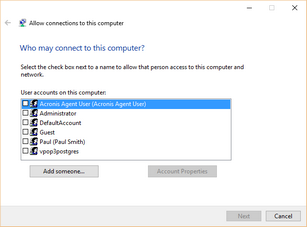 Press Next
Select Through a dial-up modem and select the modem(s) which you want to use for dial-in connections. (If no modem option is available, then Windows does not think there is a modem installed, so go to Control Panel -> Phone & Modems to add one)
Press Next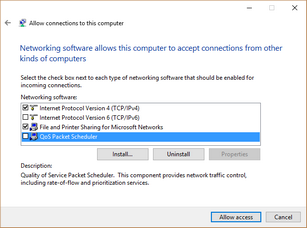 Choose the appropriate network components. VPOP3 only needs TCPIPv4, but you may want the other services to be available to the dial-in user as well. Press Allow Access
Now, in the network control panel there is an Incoming Connections icon which shows how many active incoming connections there are.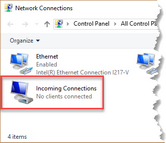 VPN
As an aside, at the How will people connect dialog, you can also choose Through the Internet to have this computer act as a VPN server. This needs a permanent Internet connection so is not relevant for this particular topic, but may be useful in other circumstances - eg if you do have a permanent Internet connection but want to have a VPN for users to connect to VPOP3 rather than connecting simply over the Internet.
Windows Server
Windows Server also supports dial-in services, but it is more complex due to the integration with Active Directory and support for more powerful features.
You need to configure the Windows RRAS (Routing and Remote Access Service) role to support dial-in or VPN connections
For instance see Windows 2012 - Routing and Remote Access Service for Microsoft's documentation for this service on Windows 2012