To get to this page, to to Reports → Users Last Login.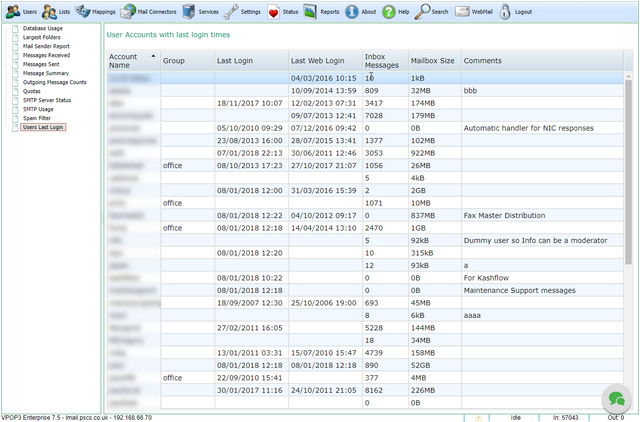 This report lets you see a summary of users, their mailbox sizes, and when they last logged into VPOP3. It can be useful for detecting unused accounts or idle users.
The columns are:
•Account Name - the name of the account in VPOP3
•Group - the user group in VPOP3
•Last Login - the last time the user logged in using POP3, SMTP or IMAP4
•Last Web Login - the last time the user logged in to the Webmail or admin area
•Inbox Messages - the number of messages in the user's Inbox mail folder
•Mailbox Size - the total size of all messages in the user's mailbox (may include folders other than the Inbox folder)
•Comments - the administrator comments for the user
We are always open to suggestions for other reports to add, as long as they will be generally useful to other VPOP3 users, not too complex, and the relevant data can be captured without adversely affecting performance or disk usage. Please contact us with your detailed suggestion. The current reports are reports which have been requested by users or which we have found useful ourselves.